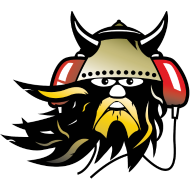 I listen to a lot of podcasts while commuting and painting figures. Lately, I have been trying to fill my time with podcasts on the history of the Dark Ages. Saga has been a lot of fun, rules wise, but I can't claim to be very knowledgeable about the period. Rome fell, the Vikings came, Western governments started to be entangled in questionable Middle East wars, and the Normans conquered England. Getting more in depth in the period, though, has really revealed a lot more interesting history. Here's what I have been listening to:
The History of Rome:
I have mentioned
the History of Rome Podcast
here before. It is complete now, and a wealth of material, covering the ENTIRE history of Rome from the mythical origins to the fall of the Western Empire. Most of it obviously isn't directly related to the Dark Ages, but it is almost necessary background material. I'm continually surprised at how much of the Dark Ages still revolves around and is directly influenced by the Roman Empire.
12 Byzantine Rulers:
The natural place to go after the History of Rome,
12 Byzantine Rulers
is highlights of the Eastern Empire, starting with Diocletian and ending with Constantine XI and the fall of Byzantium to the Ottomans in 1453.
Norman Centuries:
By the author of 12 Byzantine Rules,
Norman Centuries
follows the founding of the Normans by Rollo until-- so far-- William the Good of Sicily.
Europe from its Origins:
I listened to
Europe from its Origins
a while ago, and honestly, it just didn't take root at the time. It's really due for a relisten now that I have a much better context to place it in. Irritatingly to me, this is technically a video podcast, but the video is largely superfluous, making the extra space it takes up wasted. Also, some of the background music combined with the narrator's mild manner can lull you to sleep!
Irish History:
I recently discovered
the Irish History Podcast
on
the Miniatures Page
. It appears to be very slowly published, but what I've heard so far has been pretty interesting. It also has links to some related podcasts I haven't checked out yet.
British History:
I made note of
the British History Podcast
a while back, but forgot about it until gathering info for this list! I haven't listened to it yet, but it certainly looks interesting.
General History:
There are some general history podcasts out there, notably
Hardcore History
and
History According to Bob
. I'm not crazy about the presentation of either of these podcasts-- Hardcore History is ridiculously overdramatic, and Bob's presentation is a little monotonous and irritating. However, it would be useful to scour these for applicable episodes. Also,
In Our Time
from BBC4, another regular listen of mine.