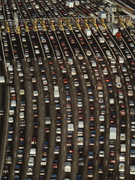 I'm trying to get myself a little organizized, so I am forming a queue of shorter term hobby goals. I'm not really creating firm goals; I'm just trying to keep a little better visibility of what I'm thinking about. I've got a lot of thoughts bouncing around in my head and I could certainly use a bit of direction at times... I may post this list again periodically as items are completed. BWAH HA HA HA HA...I slay me.
Infinity: I have firmly committed to paint up my starting infantry-- that's four PanOceanic Fusiliers, a Croc-Man, and two ORCs. I have three Fusiliers mostly finished, and am about halfway through the last Fusilier and the Croc-Man. Then I'm taking a break because I'm really tired of them. I'm trying pretty hard to paint them well and it's a bit taxing.
D-Day: At a minimum, I need to paint two MG bunkers, two MG nests and my 5cm KwK nest. I also need to touch up and magnetize the AT Pillboxes. Longer term, my en route Rangers, Tobruks, more defences, and support platoons, but I will be able to run games without those.
Napoleonics: It's time to get back to these. A club member, Tom, picked up some Russians, so at the very least, I need to build out my French. I know I really need cavalry more than anything else, but I'll need to sit down and think a bit about what else I need. It gives me a chance to paint Prince Poniatowski, who I've enjoyed what I've read about, and some Poles. Perhaps help with the Russians, too. I'll probably paint units in dribs and drabs until I have a firmer direction here.
Lord of the Rings/Saga: TECHNICALLY not a new period, I swear. I painted the Mines of Moira Fellowship party, and have the baddies out for Number One Son to paint. I wanted to play some generic fantasy using GW's LotR with him, especially as that would dovetail into using Legends of the Old West for some cowboy games. Anyway, he got a parental school performance reward, thought about what he wanted for a day, then said, "Mumak." Wow. So...that's on order, and I'm not going to buy LotR forces to oppose it. However, it does dawn on me that I could paint Saga forces and PROXY them as LotR forces against his Mumak and whatever else...
Prehistorics: Tusk and some LotR-based dinosaur hunting are pretty much completed and just waiting to be run with Number One Son.